NEW 8coil MINI. Based on the popular
Soap-Bar Bass humbucker. ( 35DC types )
size= 89 mm X 38 mm & height of only 23 mm,
Our first ever Drop-in-replacement 8coil for Bass with a string spacing of 19 mm string to string.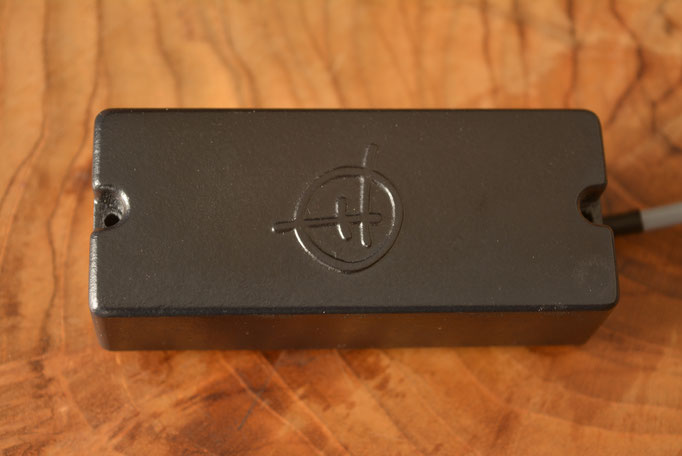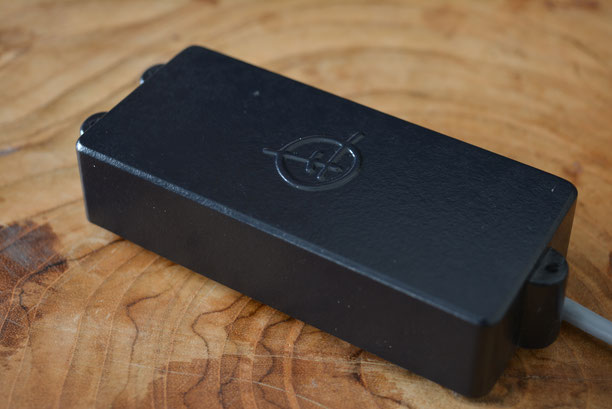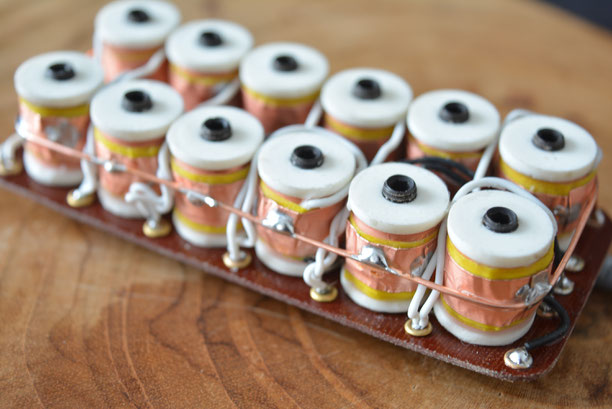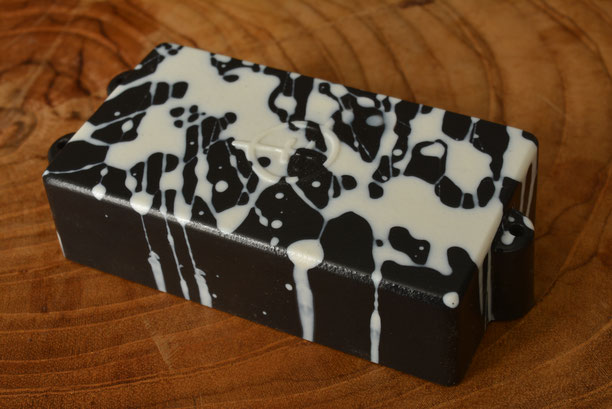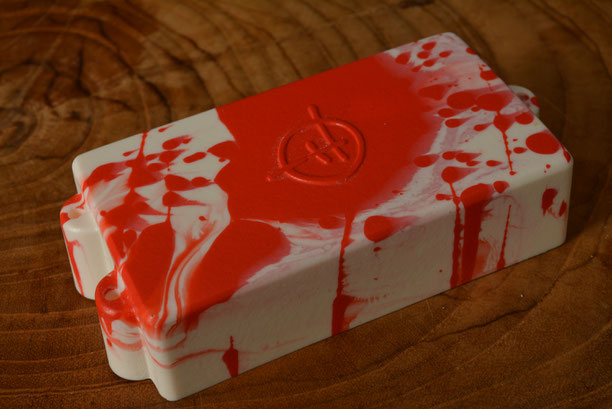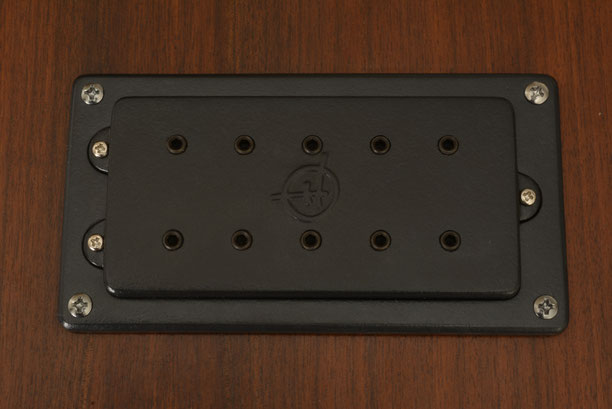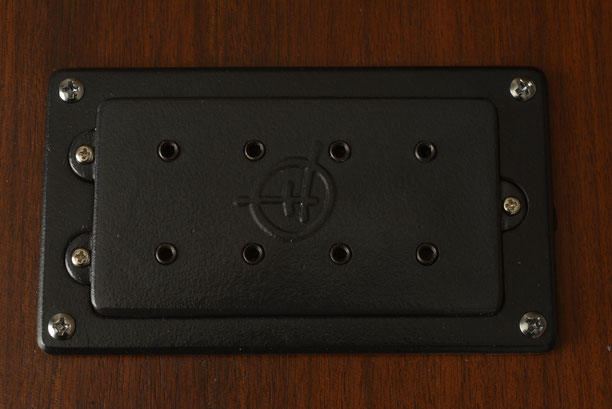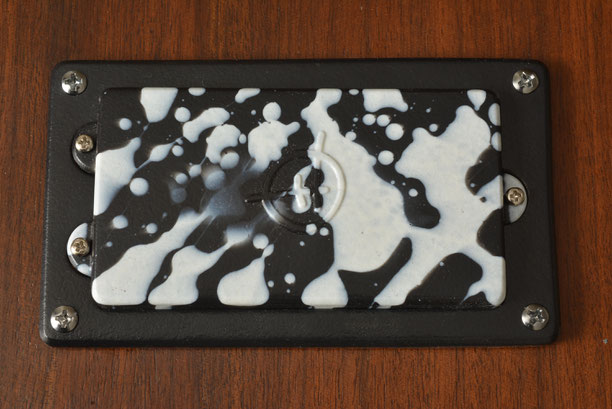 To allow fitting of our popular 10 coil pickup into All the MM 5 string Basses, we now offer all 3 of the Cover configurations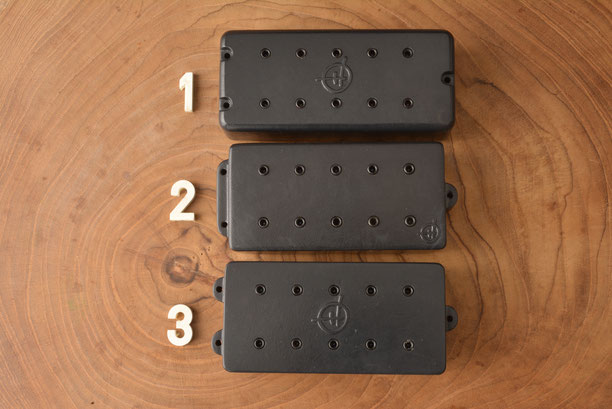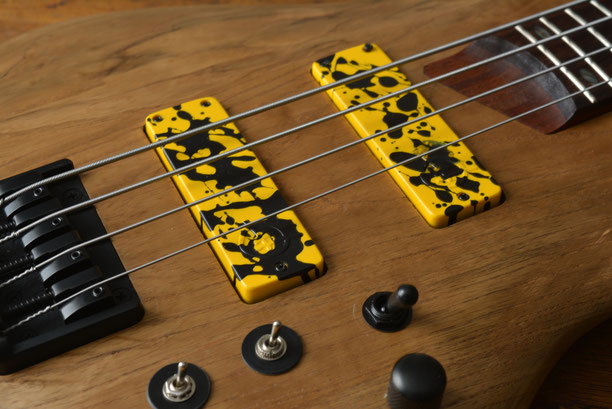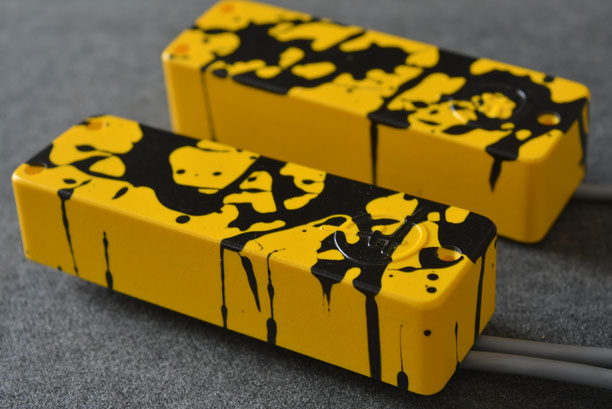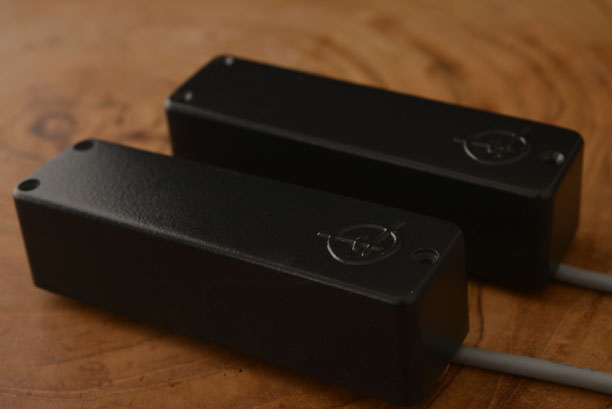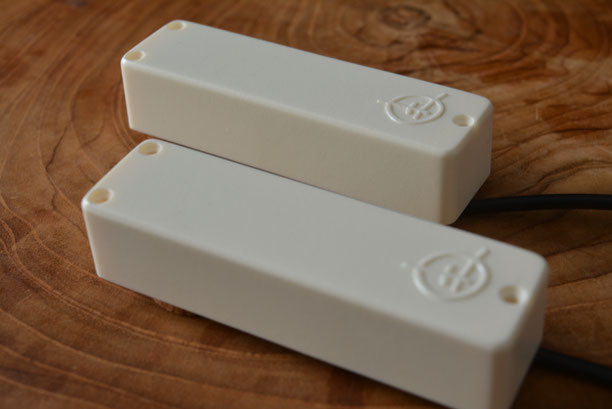 Our new J4 soap bar pickups are designed to replace: B4 / BC4 & Bart Mk 1 & 2 Bass guitar soap bar types. The J4 Standard model measures 108mm x 34mm & the J4 Mini measures 100mm x 29mm.
Both the high output single coil version pickup types have a 21mm depth. 
the Multi-coil versions due to the internal technology are 25mm depth.
The High output single coil has been designed as a drop in replacement, while the multi-coil versions will most likely require some pickup cavity re-working to fit in your instrument. A pair of these soap bar pickups are A good choice for a custom build & are offered with a number of output options similar to our popular 8 & 10 coil pickups. 
Please see the J4 product pages for more info.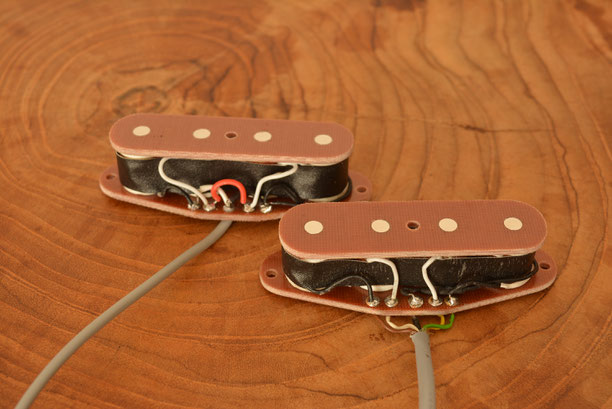 TELE 4 coil. This one has been on the cards for ages. We decided to expand the output on this early Bass guitar pickup as far as was possible & have produced a 4 individual coil unit that is available in 2 options. A simple, straight Humbucking unit that can be wired in as an original TELE bass unit with 1 Hot + Earth connection & a 2nd version with a 4 + Earth wiring harness to allow connection through a Double Pole / Double throw switch for Series / Parallel output. The magnets are Alnico 5's with thin Neo's top & bottom to get maximum performance from the Sweet toned 6.8K Ohms D.C output. As the pickup has the same footprint as a standard TELE 4 pickup & is 20mm overall Height, it should fit a factory instrument with no serious molestation.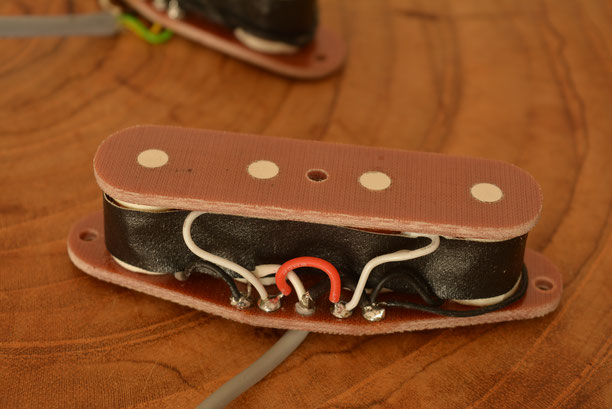 8 COIL PICKUPS & THEIR INTERNAL COIL CONFIGURATIONS............ IN A NUTSHELL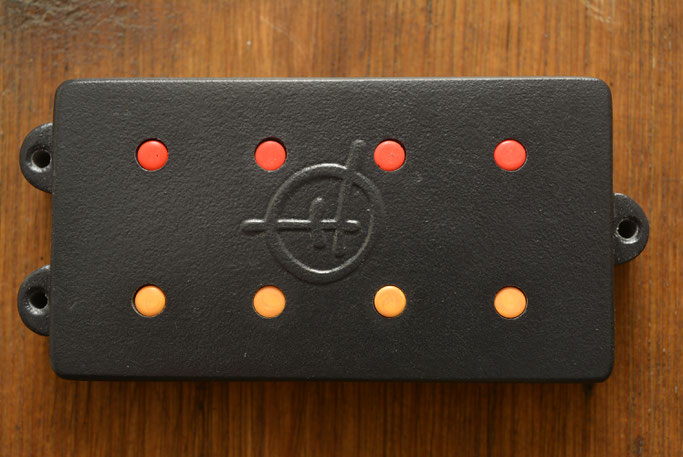 STANDARD 8 COIL MM HUMBUCKER, 3 available outputs 1=Shown in Red  / 2= Shown in Orange  / 3= all 8 coils together . This unit operates as 2X pseudo single coil outputs, basically 2 Horizontal Rows of 4 individual coils wired in series, here shown colour coded for simplicity. Although the layout is similar to single coils, there is increased sensitivity, a characteristic unique to the multi-coil pickups. This 8 coil has a Full humbucker mode when both coloured rows shown are selected to use together. This type of 8 coil Can be used passively or via an active pre-amp.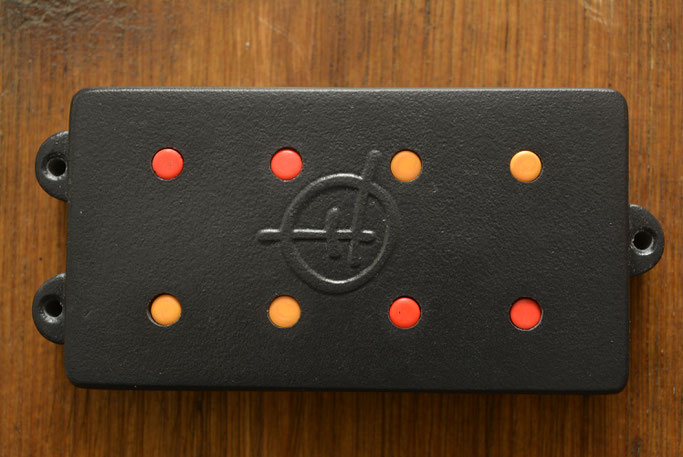 SPLIT OUTPUT 8 COIL output 1= shown here in Red; SPLIT-P  / output 2= Here shown in Orange; REVERSE SPLIT-P / output 3= all 8 coils selected to use together , all 3 of these outputs are in full humbucking mode. This type of 8 coil Can be used passively or via an active pre-amp. The way the coils are wired internally give a wider tonal range than our standard 8 coil pickup, It also covers the much loved split-p configuration & is generally quieter in operation due to the fact that all 3 outputs available are true humbuckers. For a single pickup Bass,  this type would be our recommendation for maximum tonal flexibility & 3 outputs that are audibly different from each other, & which are available when wired through a standard 3 way toggle switch.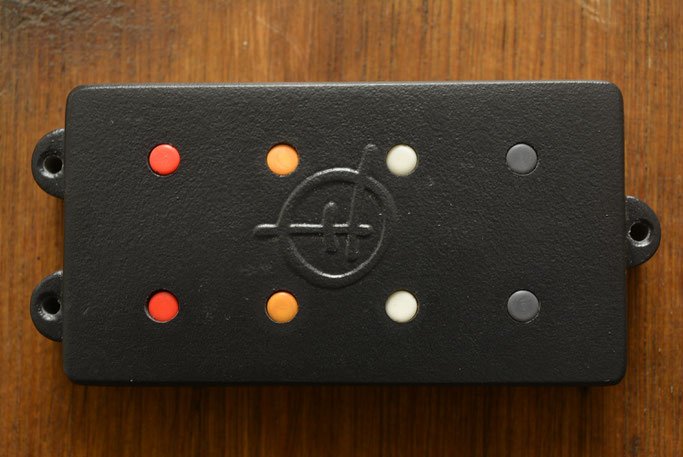 8 COIL 1 HUMBUCKER PER STRING, Unfussy, Single output available in all 8 coil mode only via a 1 humbucker per string compatible active pre-amp. the colour codes pictured above are merely to show each pair of matched Humbucking coils, this type of 8 coil pickup Cannot be used passively.
All of our 8 COIL pickups have adjustable pole pieces & the coloured dots pictured here are purely to help explain the internal coil layouts & are not present on the actual pickups.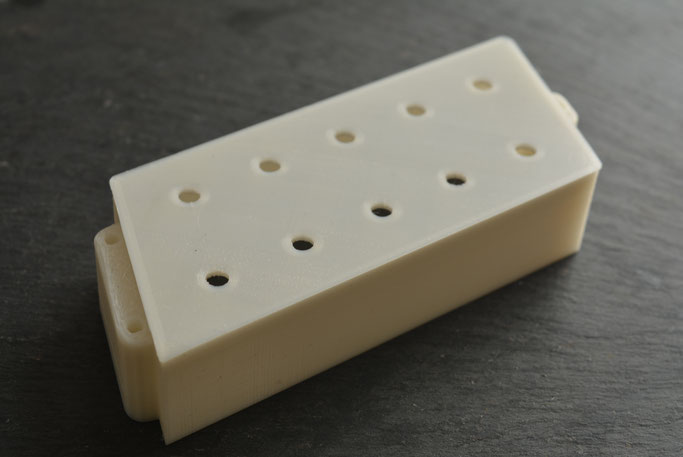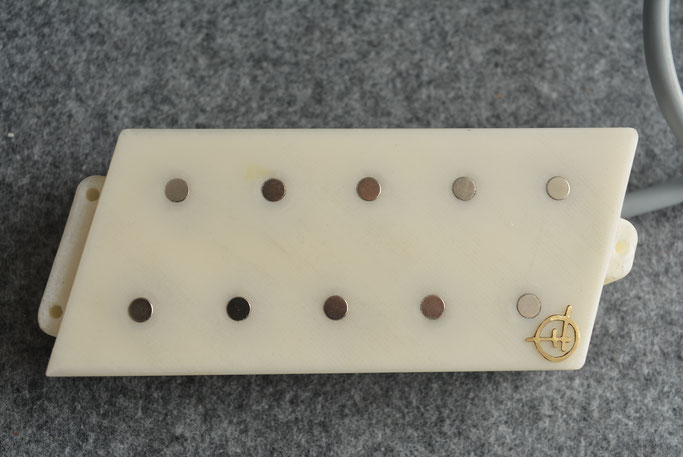 3D printed cover, used to build a Unique Custom Multi-coil Pickup for 1 of our customers.
This modern technology allows Custom shapes to be created to fit our multi coil technology  in either 2 x pseudo single coil, split output & 1 Humbucker per string versions as long as the Pole spacings on your Bass are wider than 16 mm string to string. We will be only limited by the filament colours available & can generate covers from your individual dimensioned sketches. Please contact us for more details.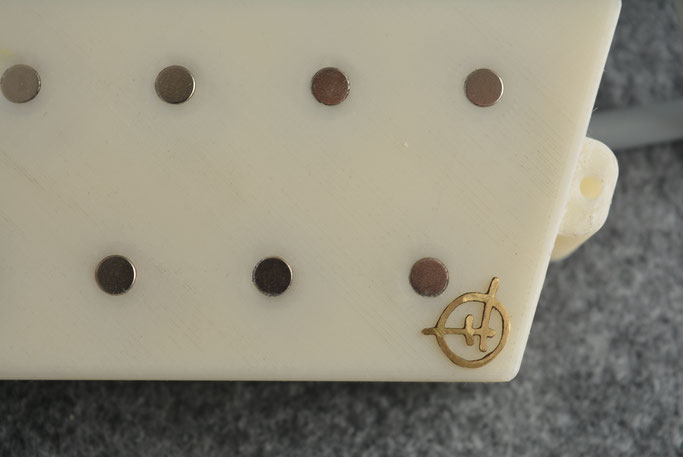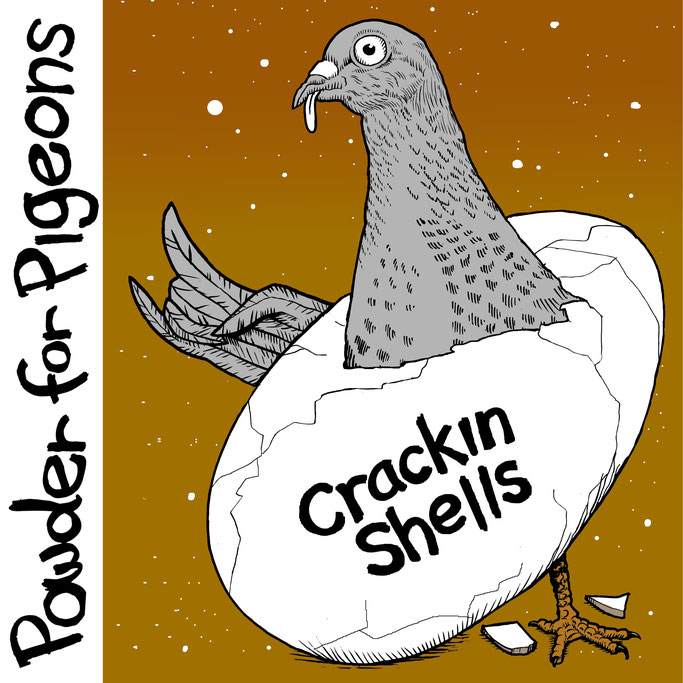 https://powderforpigeons.bandcamp.com/
New E.P from the fabulous Powder for Pigeons available on bandcamp right now !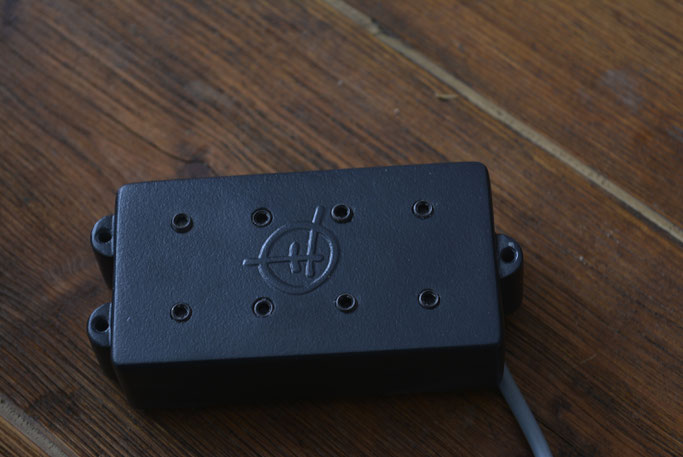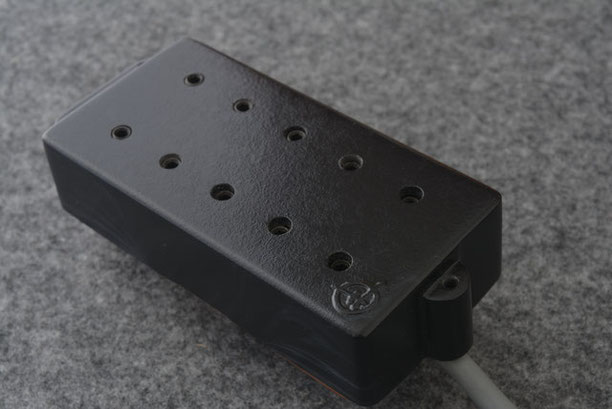 Introducing Nuno of Lusithand Devices, born and raised in Portugal who has been playing the bass since he was 16 years old. He has lived in London since 2015 & plays in a band called TrYangle,
 Nuno's influences are Nirvana, Tool and Dream Theater 
It was through bands like these that he became interested in using effects, namely Overdrive & Distortion
After building his first D.I.Y pedal kit he saw the potential for effects & making music &  started his journey into electronics  
Nuno now works for  Rainger  FX & contacted us at herrickpickups a couple of years ago with an idea to build a custom NFP preamp to use with our multi-coil pickups. 
We were sent one of these & it is a tiny unit which takes up a  little more space than a volume pot. It's a really fun upgrade that is very quiet in operation & simple to install. This unit runs on a 9 V  or  2X  9V batteries & can be used on a pre-existing passive circuit. With the multi coil pickups it helps to "Tough up" your Bass.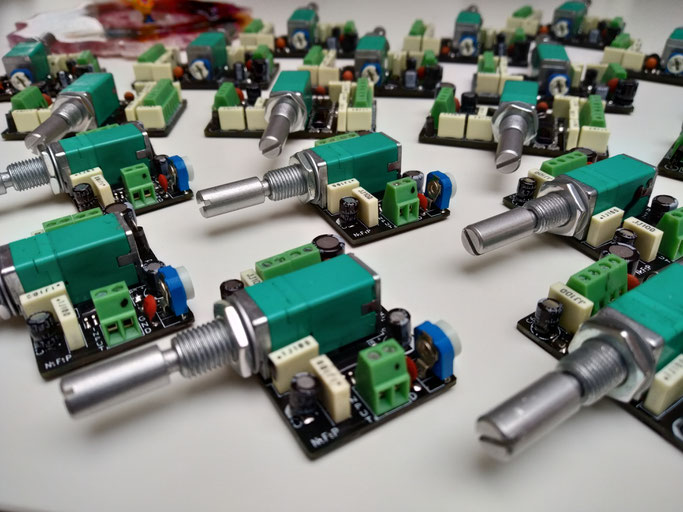 Nuno can be contacted directly at
witchelectronic(at)gmail(dot)com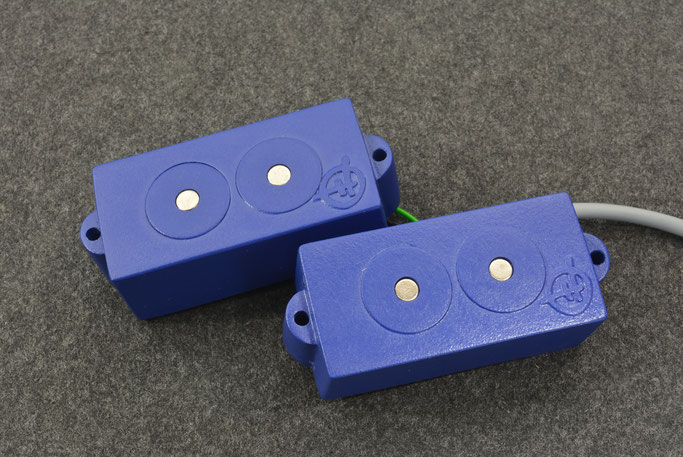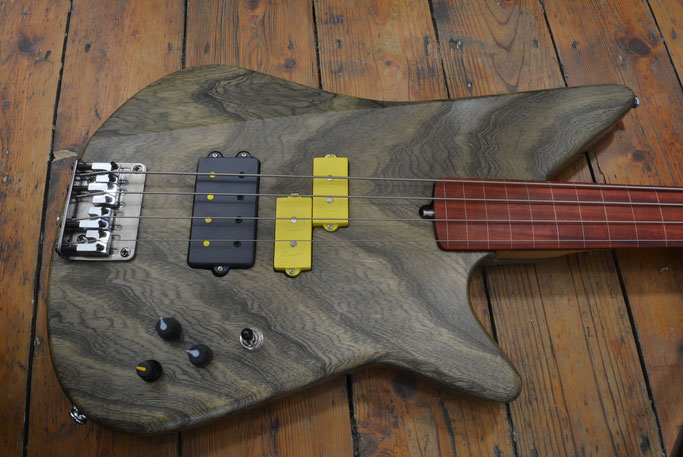 Our new 4 coil Split-P humbucking pickup has the same foot print & string spacings ( just under 19 mm) as a regular Split-P, 4 string Bass pickup but with our multi-coil technology within. Full earth shielding creates a unit that operates without noise & gives extra clarity & punch to a pickup type that is already in a class of it's own. 
Built for musicians who are not satisfied with just flat-lining through life.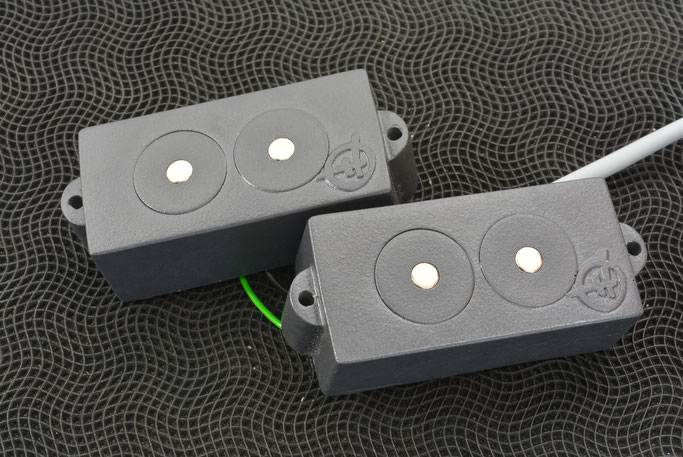 INTRODUCING
THE MM NEO 5 STRING, IN ALNICO 5 / NEODYMIUM & MUTANT 5 VERSIONS
NEW GHOST COIL VERSIONS FOR 4 & 5 STRING MM BASSES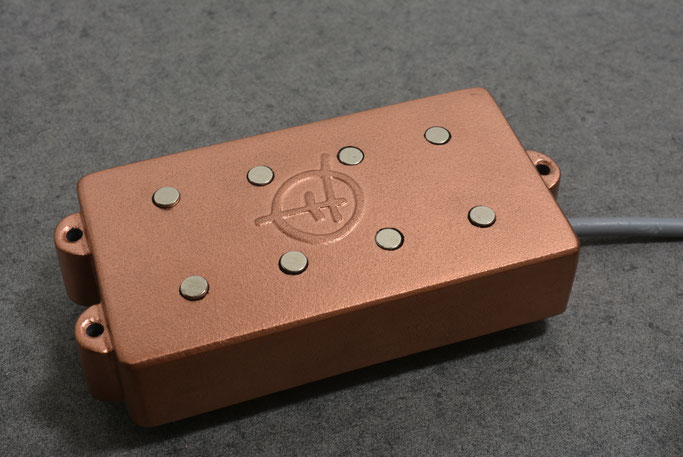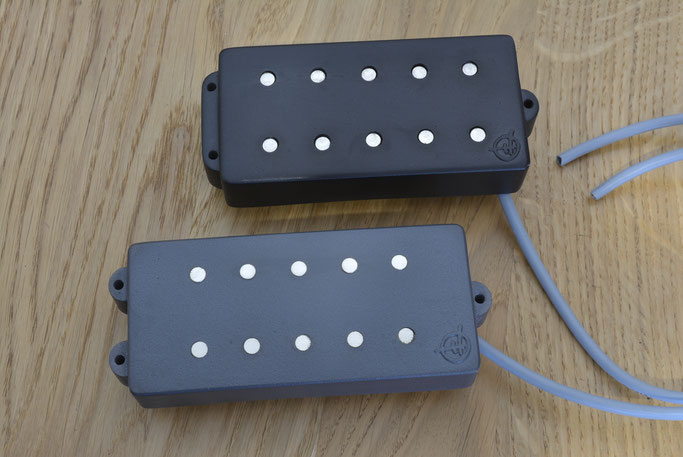 MM 5 GHOST COIL HUMBUCKERS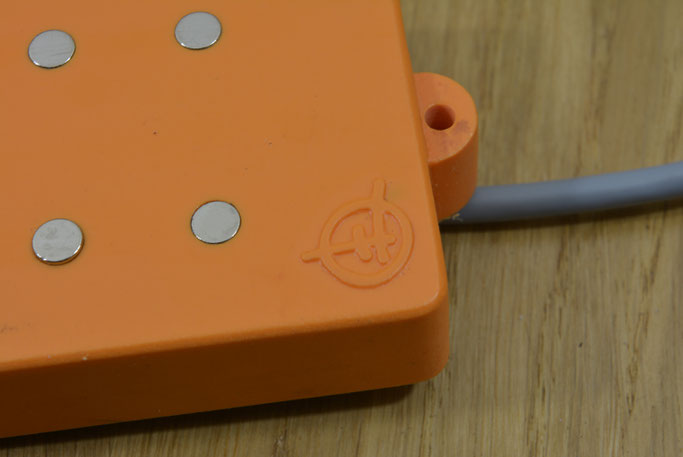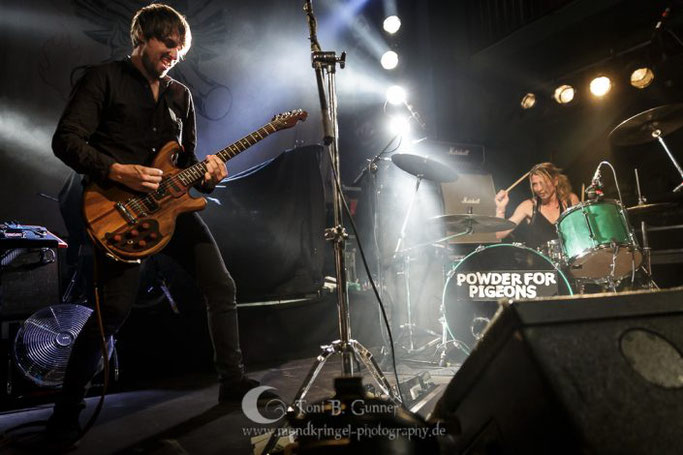 The fantastic Powder for Pigeons practicing for their new E.P. Rhys, the guitarist is using a specially constructed pickup set which includes a Cigar Box Guitar 3 string unit for an extra Bass channel output in the middle position. Coupled with 1 of our new Strat Bridge humbuckers, both units with neodymium magnets fitted. The result is a huge, larger than life  sound from a single instrument. Rhys offers his own hand made "Bush Pig Guitars" for discerning musicians from nearly impossible to source Tone Woods from his native home of Australia. I was lucky enough to meet up with Rhys & Meike in the summer & hear them play, just amazing !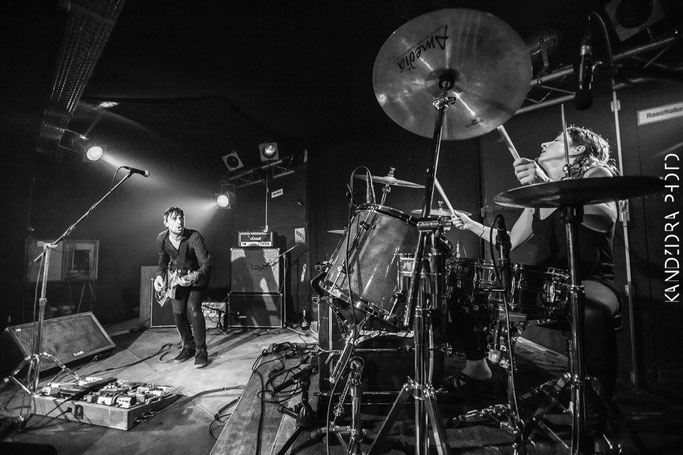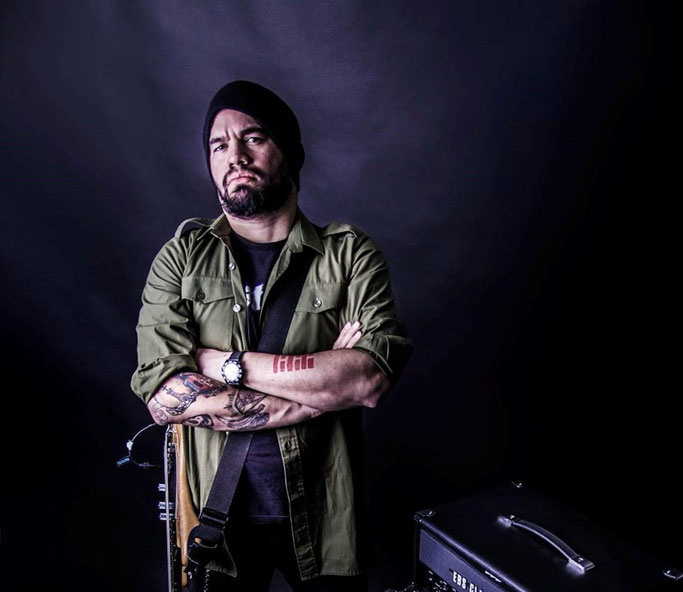 Francisco recently discovered our 8 coil for Musicman. He writes...
"The Herrick 8 coil has turned my Stingray into a totally different instrument. Instead of the added bass frequency boost available on the factory model, that I feel is a negative point on the Stingray, The Herrick 8 coil sounds rounder with more natural Bass. I love the tone of Justin Chancellor from TOOL & with the Herrick 8 coil, I think I get pretty close. It is hands down, the best pickup I heard in a Bass". 
http://ebssweden.com/content2/francisco-escalona-nightragealways-war/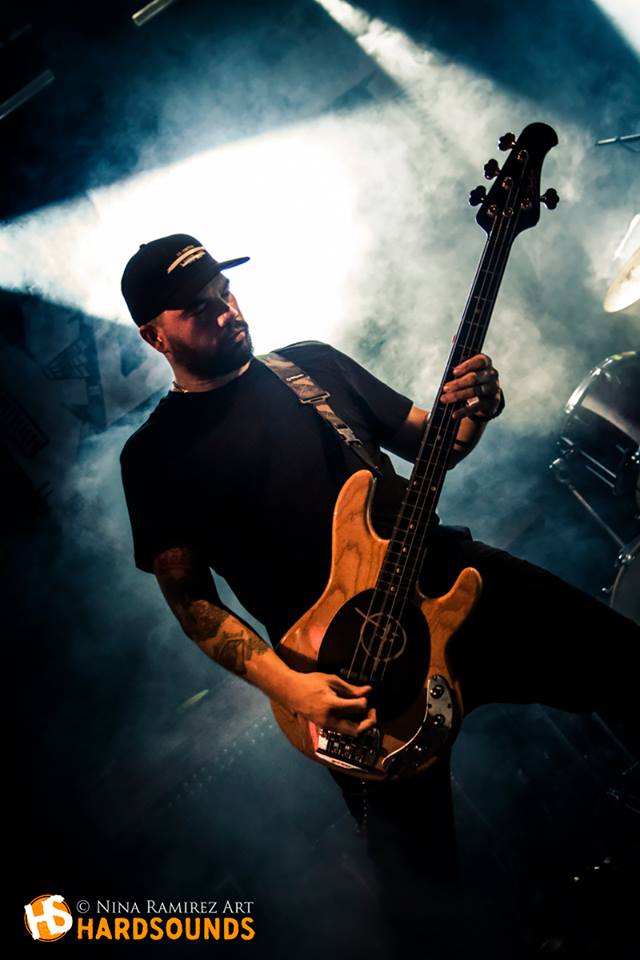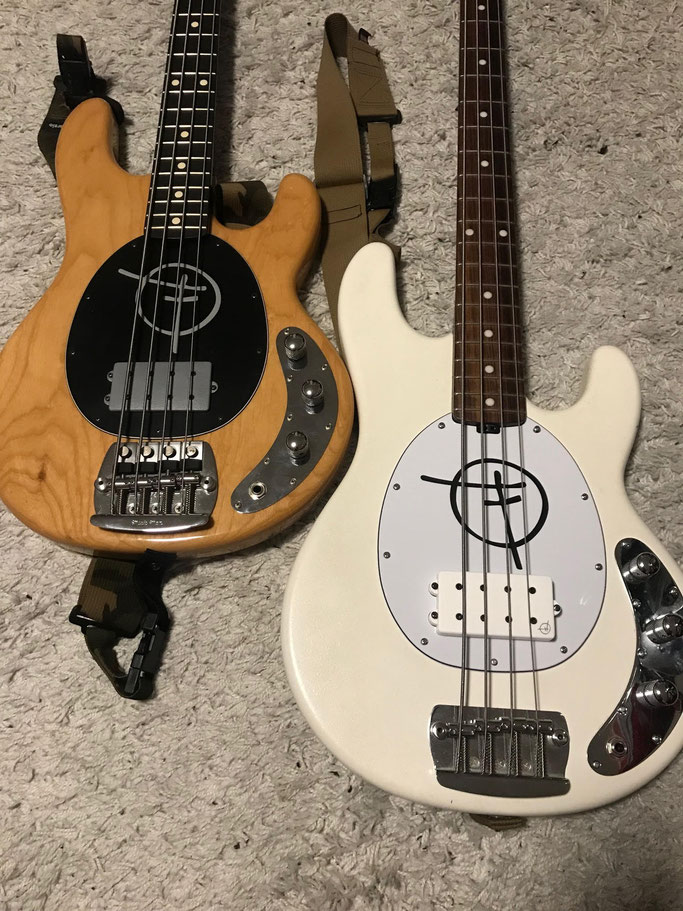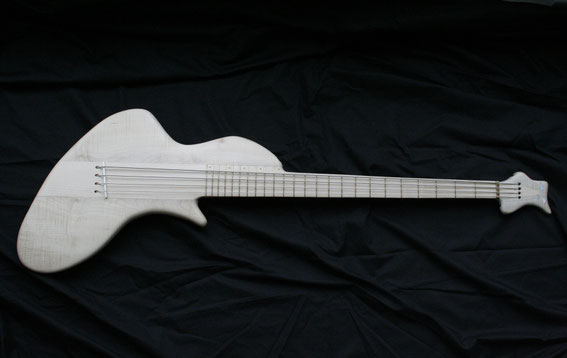 Congratulations to Andy Rogers of AJR guitar mods who has been awarded Bass of the week by notreble.com for his stunning custom made Psilos bass which features minimalist design with hidden hardware. Andy has used a custom pickup from our workshop which is a Naked version of our punchy 4 coil for the neck position & a piezo bridge unit from Artec, controlled with one of John East's fabulous pre-amp modules.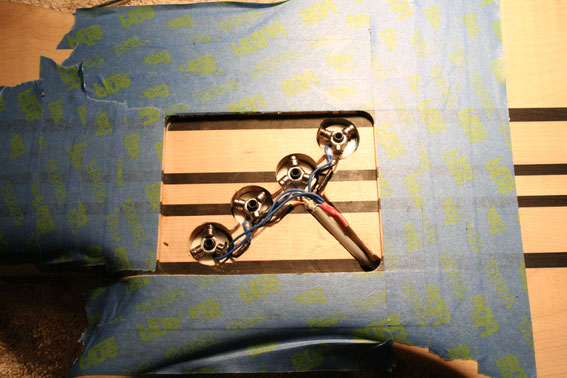 Mick T playing the Psilos bass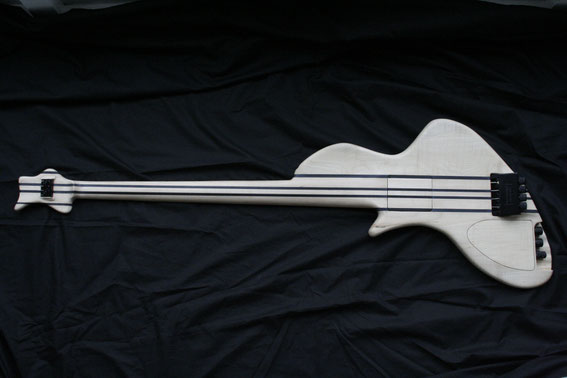 WE ARE NOW BASED IN NORTH WALES & OUR NEW WORKSHOPS ARE UP & RUNNING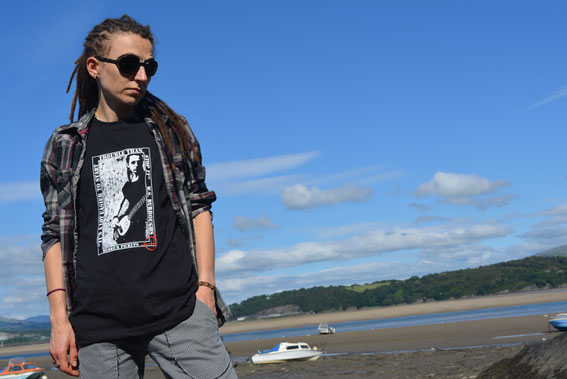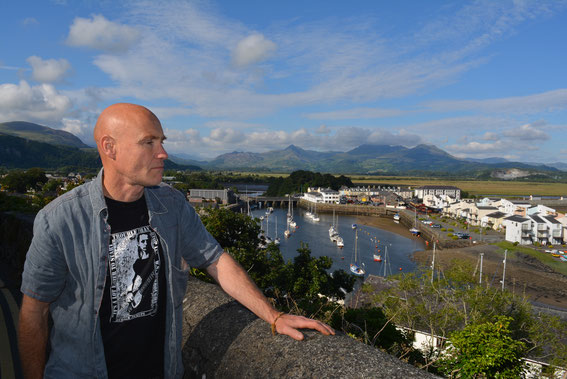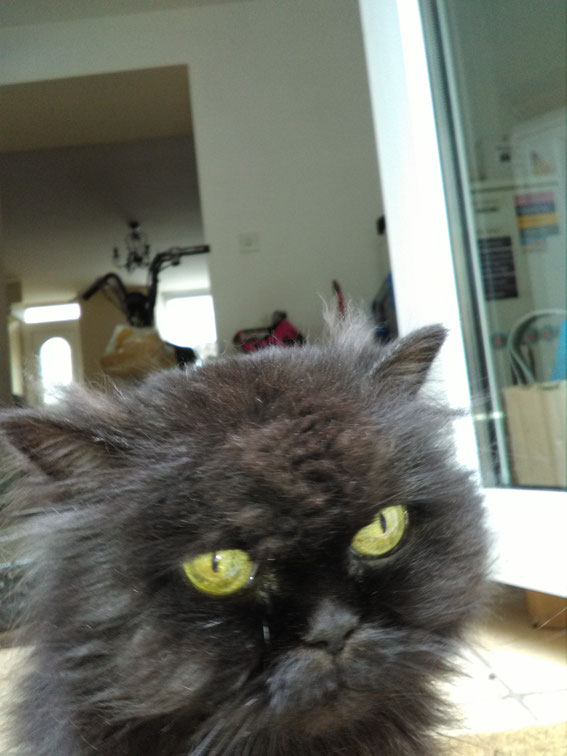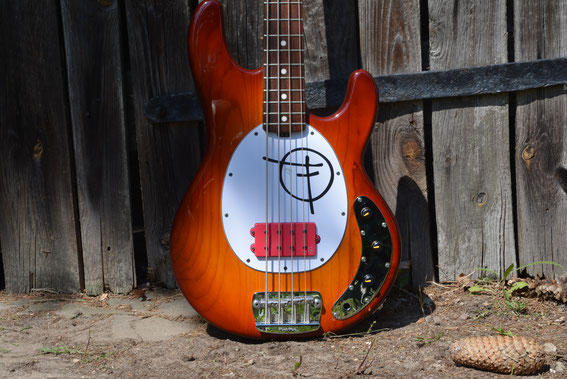 INTRODUCING OUR 8 COIL HUMBUCKING BASS GUITAR PICKUP & 3 WAY SPLIT OUTPUT 8 COIL PICKUP
Designed as a replacement for MM. & O.L.P. style bass guitars. Featuring full earth shielding and eight individual, Hand Scatter wound, (reverse wound, reverse polarity) matched coils. These pickups are very quiet in operation with an absolute minimum of cross talk. 
Connects directly to the MM. factory electronics or can be wired passively, through 2 x Volume & 1 or 2 x Tone pots. 
The 8 coil pickup is now available in 2 types.
Type 1 features 2 x pseudo single coil outputs & 1 full 8 coil humbucking mode output.
Type 2 features 3 x full humbucking outputs in full 8 coil mode, split-P mode & reverse split-P mode. 
Both these 2 different 8 coil pickups offer the serious musician a versatile & muscular upgrade to a standard MM type instrument with greatly reduced noise.
The non standard cover colour pictured above in a stingray illustrates the type of custom options you can expect from us, black & white are also available.
These pickups are our most complicated to date, almost every part is hand made. With over 80 components making up this humbucker, the tone it produces & the amazing quietness in operation has made all the development issues of getting these Pickups to the production stage more than worthwhile.
SEE PRODUCT PAGE FOR FULL SPEC.